On September 16th 2019, the Summer Training Course "Sustainable Forest Management and Bio- Economy" in the ERASMUS programme: "European - Vietnamese Higher Education Network for Sustainable Forest and Bio-economy" co-funded by the Erasmus+ Programme of the European Commission (EC) was hosted by Vietnam National University of Forestry.
Attending the opening ceremony of the course, there were Prof. Dr. Tran Van Chu - President; Assoc .Prof. Dr. Bui The Doi - Vice president of VNUF;
With partner universities, there were leaders, experts from two other universities of Vietnam (University of Science (VNU), Thai Nguyen University of Agriculture and Forestry (TUAF)), and three university from Europe (Eberswalde University for Sustainable Development (HNEE) - Federal Republic of Germany, Valladolid University – Spain (UV), South-Eastern Finland University of Applied Sciences (XAMK)).
At the 1st BioEcoN Summer School, there were 12 lecturers, experts and 50 students from above six universities belonging to European – Vietnamese Higher Education Network for Sustainable Forest and Bio- Economy. They come from 14 countries around the world, including Bangladesh, Czech Republic, Finland, Equador, Germany, Indonesia, Japan, Laos, Malaysia, Myanmar, Nigeria, Poland, Spain and Vietnam.
The BioEoN project established a Higher Education Institution (HEI) network of excellence for peer2peer learning and joint academic capacity building. Three universities from Vietnam collaborate with three universities from Europe (Germany, Spain and Finland) to develop innovative learning materials that offer students a multidisciplinary view on sustainable forest-based bioeconomy. By developing a new Master of Science Programme, the partner universities develop, customize and align their curricula towards multidisciplinary skills and competencies. The project partners internationalize to produce fit-for-job graduates in response to rapidly changing job markets. The six partners merge their expertise to develop this innovative Master Programme.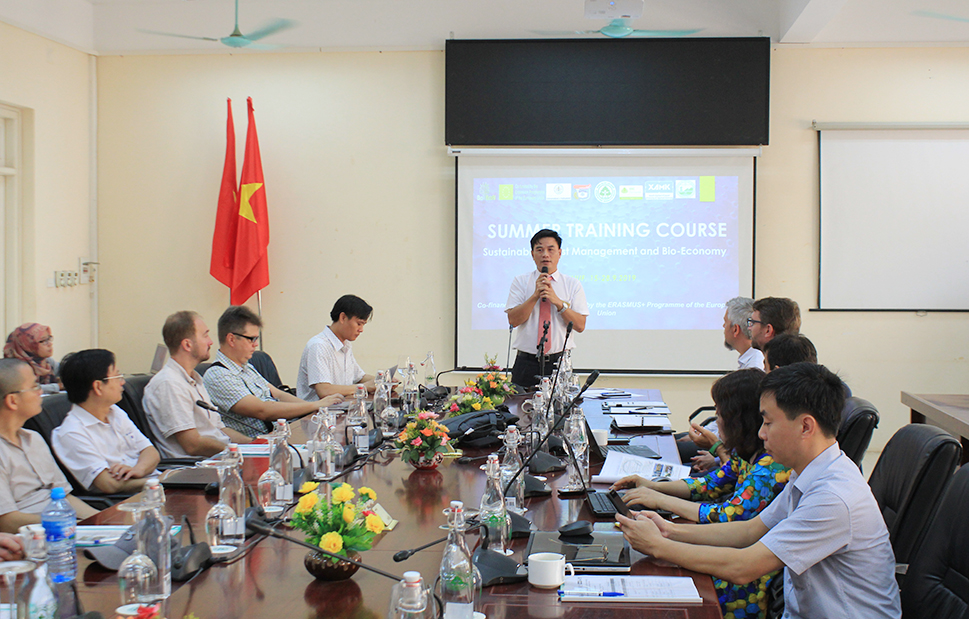 Asso.Prof.Dr. Bui The Doi - VNUF's Vice President on his speech
Summer training course at the VNUF is the first BioEcoN Summer School in a row within the framework of the Project after nearly two years of development; the programs taught by professors, experts and lecturers of six universities. This summer course will introduce the 12 modules of the program to provide basic academic knowledge and skills related to Sustainable Forest- & Bio- based Economy
Opening remarks, Assoc. Prof. Dr. Bui The Doi - Vice President of VNUF emphasized the importance of forest resources and sustainable forest management, combining the promotion of multi-faceted values of the forest, especially the bio-economy from the renewable resources. He highly appreciated the cooperation of six universities of European – Vietnamese Higher Education Network for Sustainable Forest - & Bio-Economy. This is a good opportunity to carry out international links in education and training and cutural exchanges between universities and countries; And, it creates opportunities for lecturers and students to access knowledge and skills in an internationalized studying environment.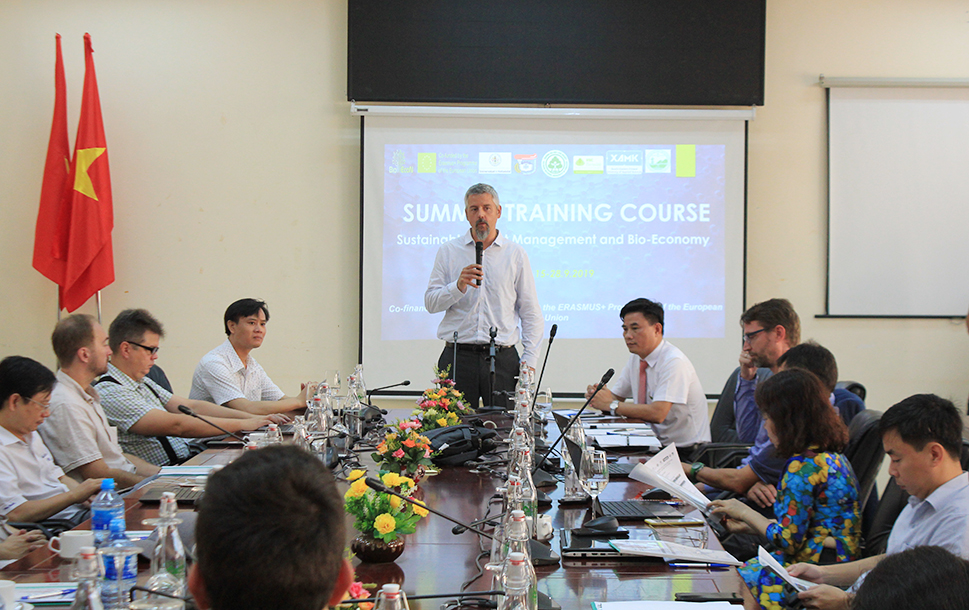 Dr. Kevin Beiler- Project coordinator's on his presentation
The training course takes place from the 15thto the 28th September 2019 at VNUF's campus, Hanoi, Vietnam. Each participant attends four courses/modules over the two-week learning period, providing the opportunity to learn new methods, tools and technologies from various disciplines. In addition to practical training, a highly interactive learning environment among international scholars and lecturers provides the ample opportunity for academic and cultural exchange. Participants will receive a certificate of participation and the opportunity to earn up to six ECTS.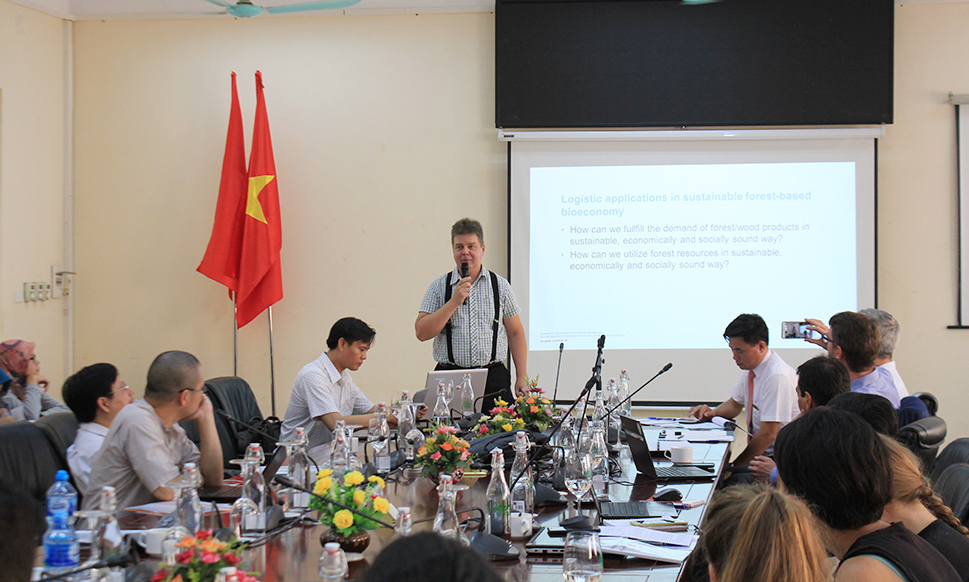 Dr. Timo from XAMK with hss presentation on the conference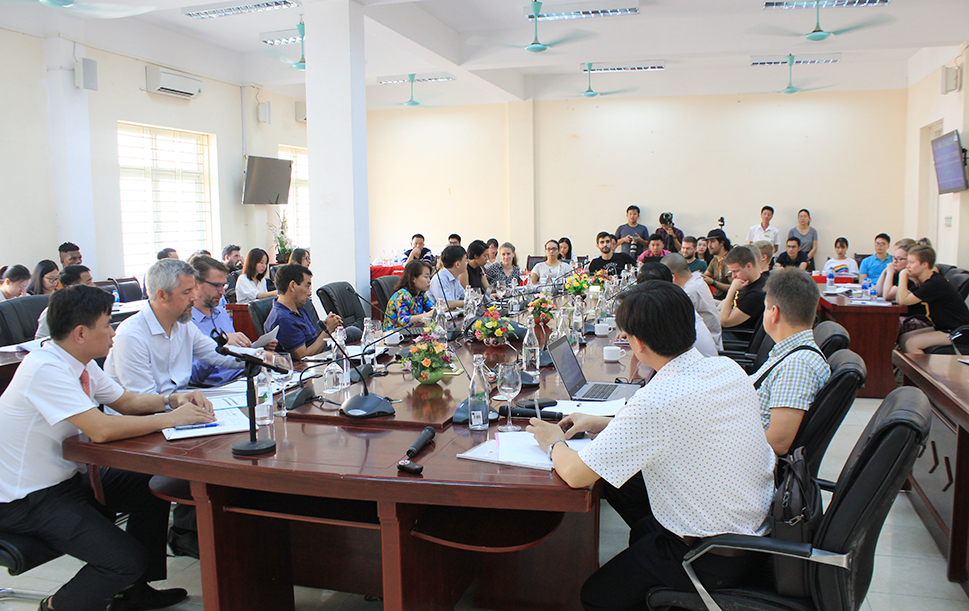 Open discussion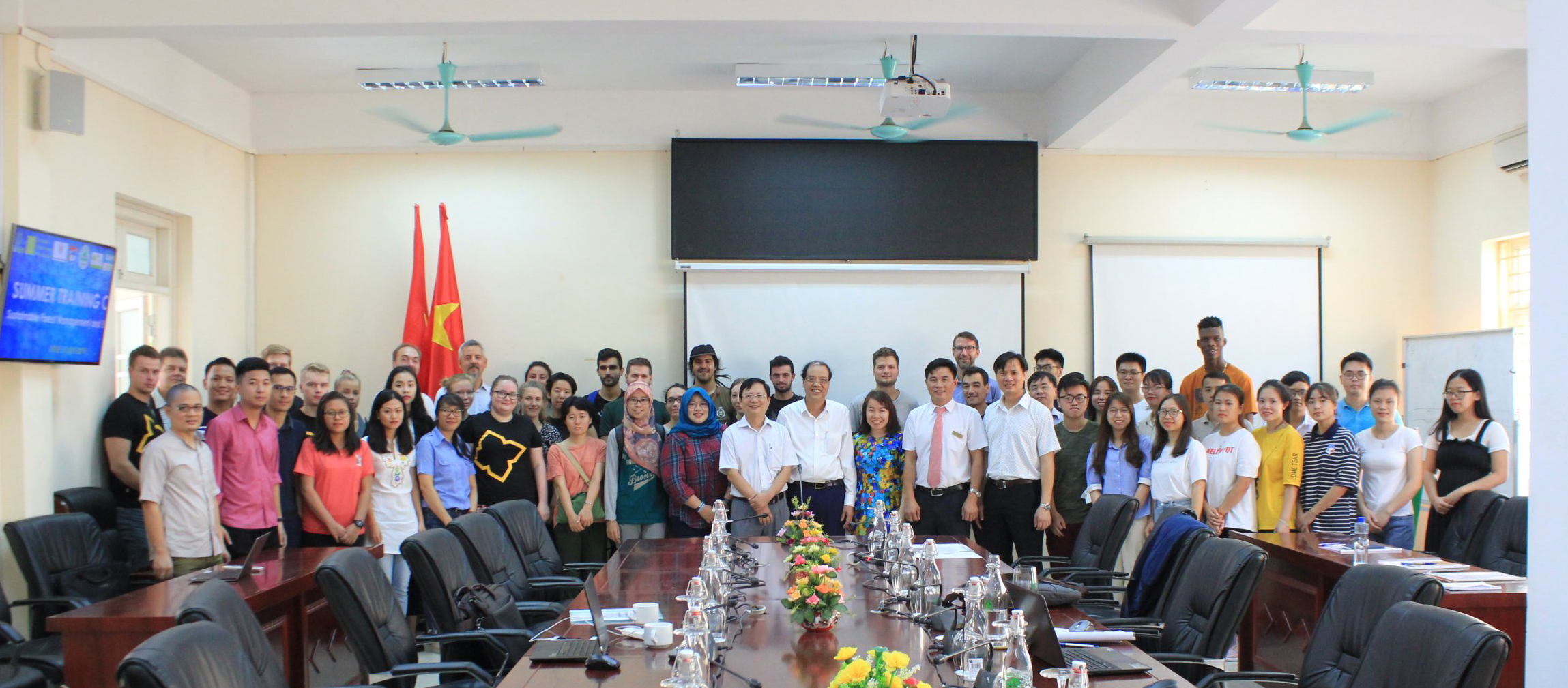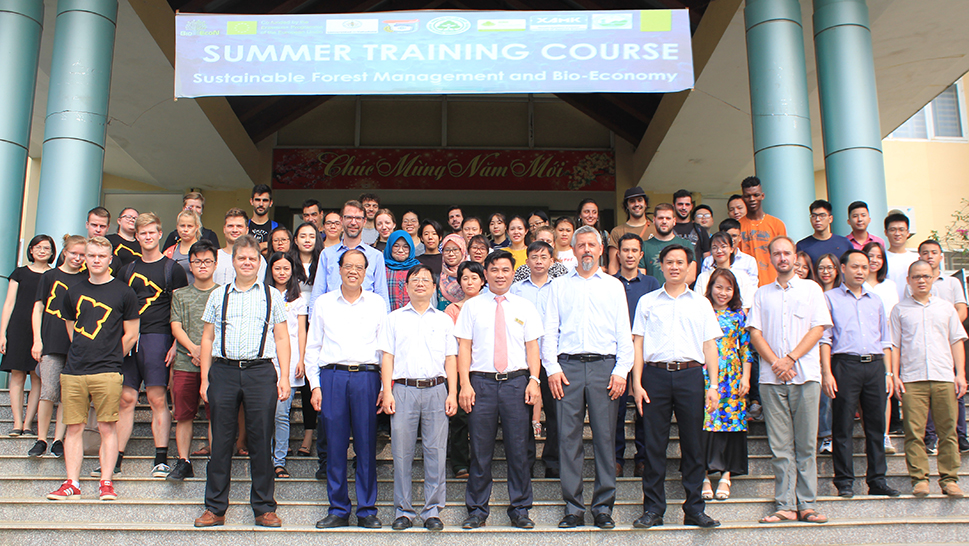 Group photo of all participants