Coordination meeting between Vietnamese universities and the project coordinator on implementation of Erasmus+ FOREST project activities in Vietnam
3 tháng 8, 2023
On 01/8/2023 and 02/8/2023, the Workshop on the implementation of activities of the FOREST Project was held at the Vietnam National University of Forestry (VNUF) with the participation of Prof. Dr. Janerik Lundquist – Project Coordinator, Professor at Linkoping University (LiU), Sweden, Prof. Dr. Hoang Van Sam, Director of International Cooperation Division, Assoc. Prof. Dr. Le Xuan Phuong - FOREST Project Coordinator at VNUF, representatives of FOREST project partner universities including: Thai Nguyen University of Science (TNUS), Hue University of Science (HUSC), Ho Chi Minh City University of Technology and Education (HCMUTE) and the team of experts implementing the project.
Speaking at the opening of the meeting on the first day, 01/8/2023, Prof. Janerik Lundquist sent greetings to the project members, introduced new members: HCMUTE, HUSC, gave an overview of the FOREST project, the agenda of the workshop in 2 days as well as the purpose of this important workshop. This was also the first face-to-face workshop between the implementing partners.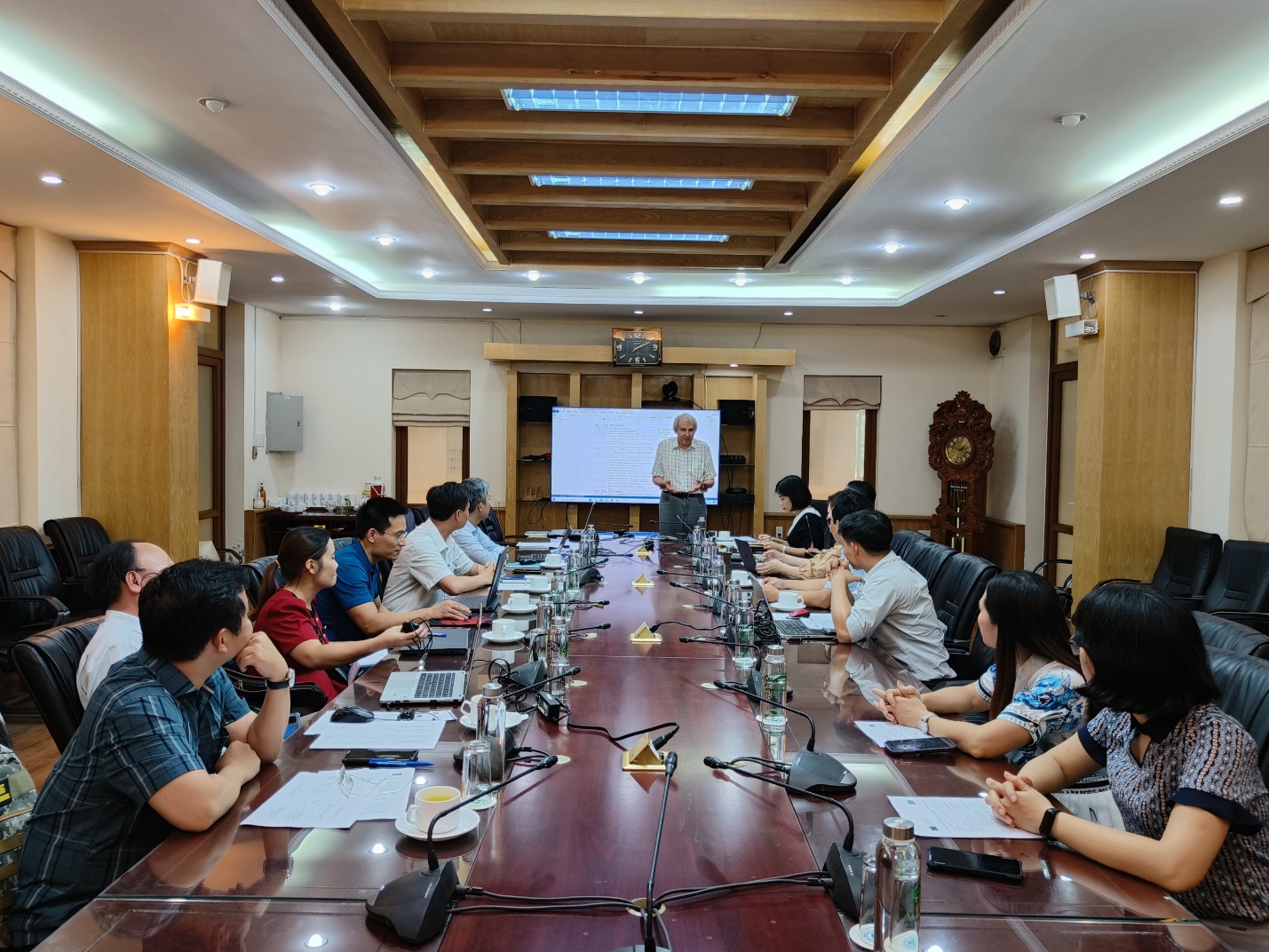 Prof. Dr. Janerik Lundquist opening remarks.
On behalf of the VNUF's leaders, Prof. Dr. Hoang Van Sam welcomed the delegates who visited and worked at the University during the two days of the workshop and highly appreciated the contribution of the Erasmus+ CBHE project to the development of the University as well as welcomed the members for important development cooperation activities and hoped that they would share experiences, discuss to implement the project effectively, contribute to the development in the field of Chemistry in general and Forest Products Chemistry in particular, and open up many new cooperation opportunities between universities in other fields of mutual interest in the future.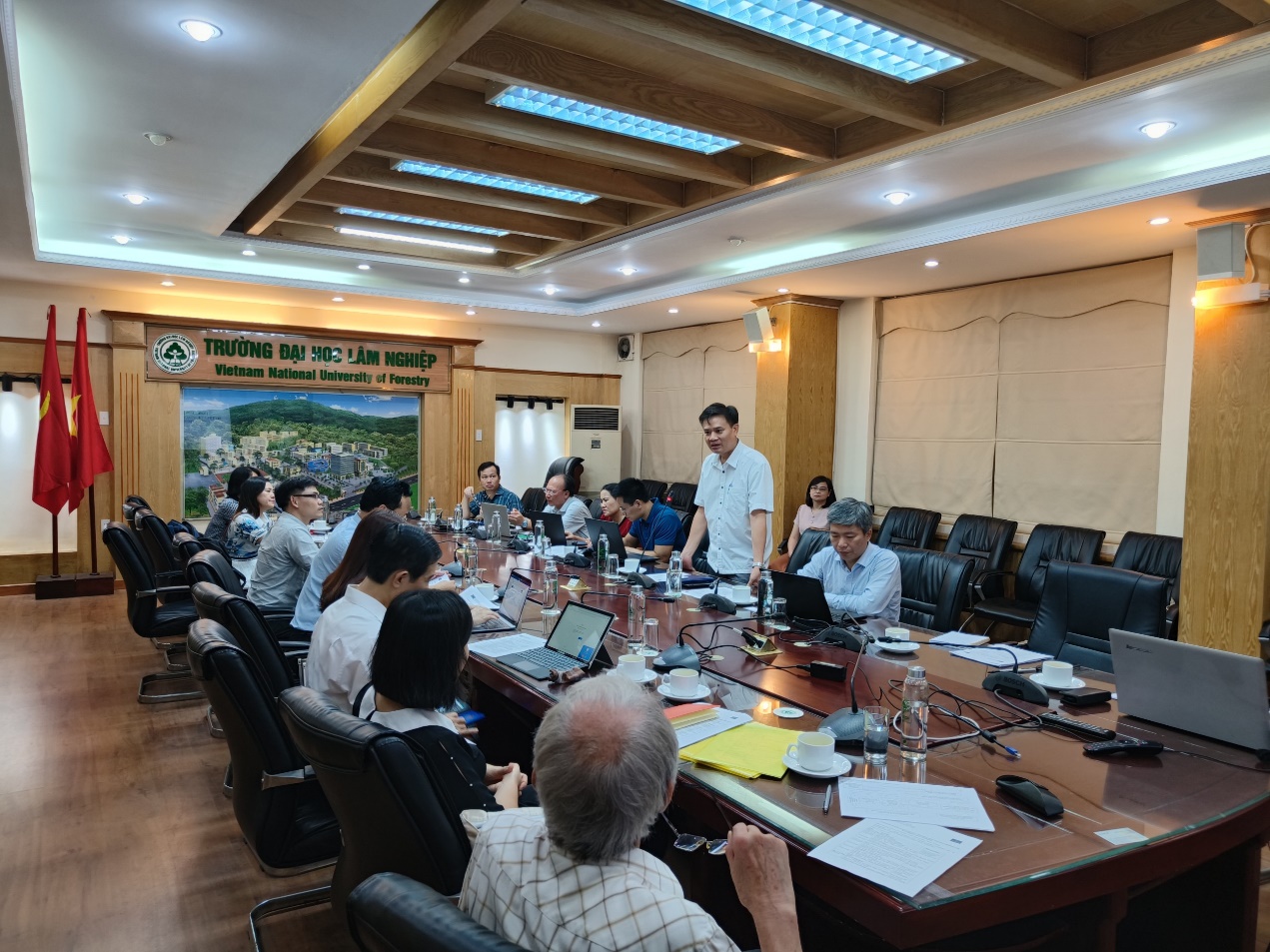 Prof. Dr. Hoang Van Sam welcomed the delegates.
Representatives of VNUF and TNUS updated the progress and results of activities that each university has implemented within the framework of the FOREST project from participating in the design of the survey form to assess training needs, building an atlas about best practices that European universities have implemented to build a good Master program meeting Bologna's standards, write learning outcomes and subject/ module outline of the training program, set up centers of excellence with lab equipment to implement activities to strengthen research skills and do experiments in Chemistry at each university. Interdisciplinary high-quality Master program in Chemistry, according to the following 4 knowledge blocks: General knowledge, Basic knowledge, Professional knowledge, Thesis. Within the framework of this project, VNUF will develop and update 9 new subjects in the Master program of Forest Products Engineering: Wood Chemistry, Forest and Climate Change, Life Cycle Assessment of Wood Products, Wood Composites, Biomass Energy, Medicinal Plants Under the Forest Canopy, Food from forests, Sustainability science, Forest products chemistry. TNUS will develops the following subjects in the Master's Program in Analytical Chemistry: Natural Resources and Environment Management, Measures to Adapt and Mitigate Climate Change Impacts, Solid Waste Management, Sustainable Forest Management, Spectroscopic Analysis, Internship. For these new subjects, both VNUF and TNUS are finalizing the syllabus and lectures to be ready for implementation in 2024. In addition, within the framework of the FOREST project, students will also be able to participate in short-term 3-month exchange courses at European partner universities.
At the meeting, members also shared their views, plans to complete specific subject lectures for the program and at the same time raised their comments, strengths, weaknesses and difficulties that need to overcome.
Some pictures discussed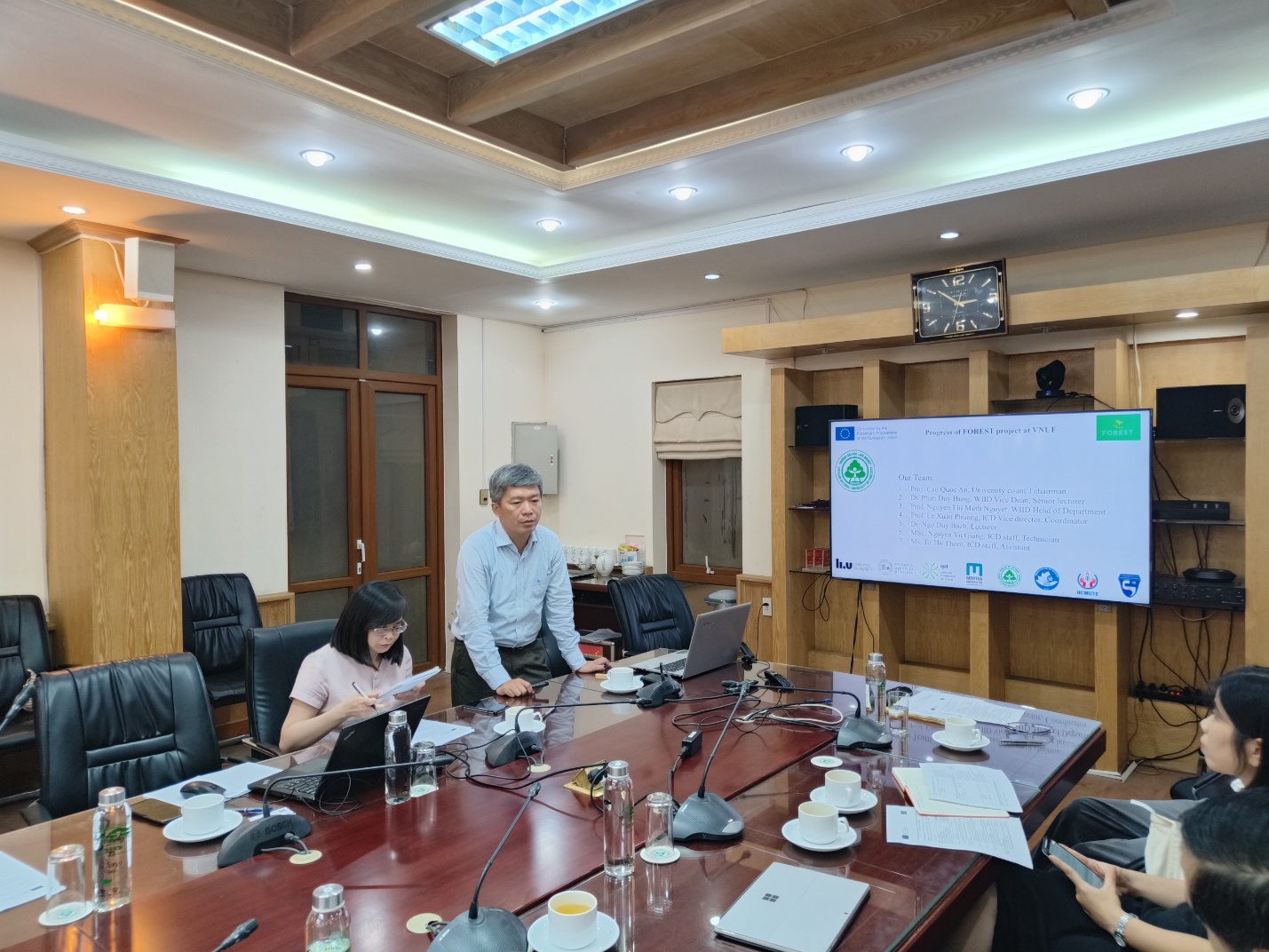 Assoc. Prof. Dr. Le Xuan Phuong (VNUF) presented the main results achieved at VNUF.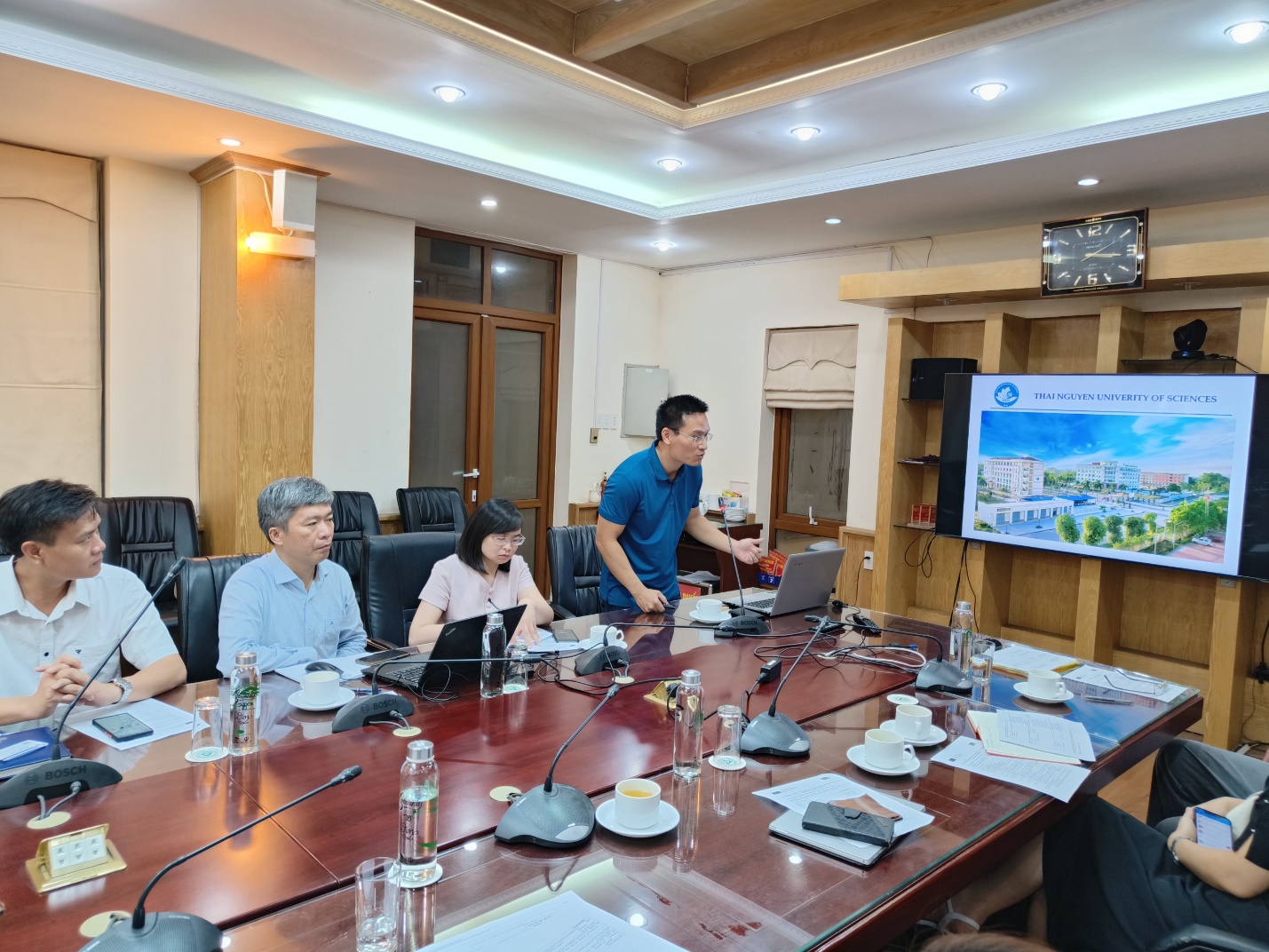 Dr. Vuong Truong Xuan (TNUS) presented the results of TNUS's project implementation.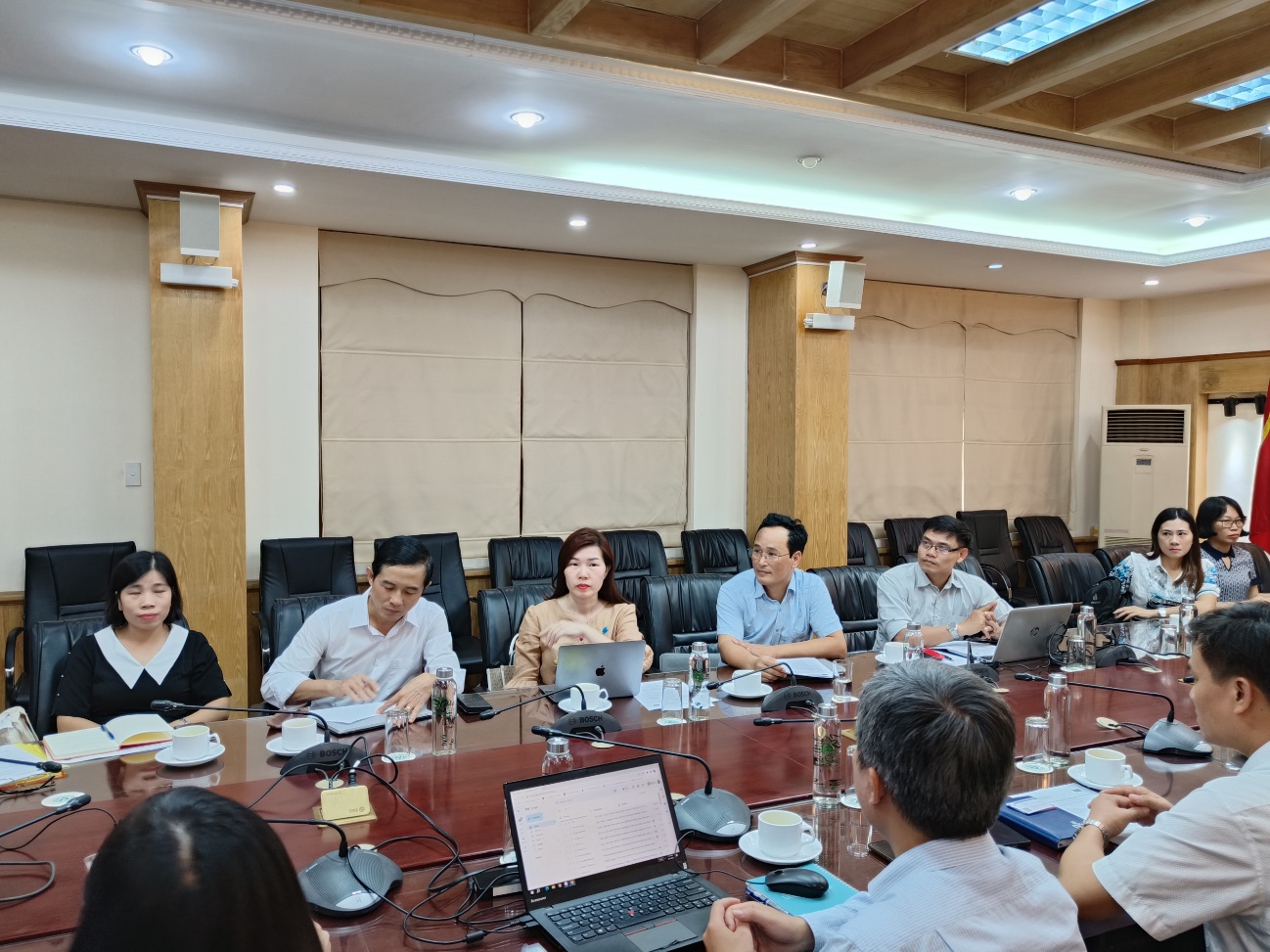 Assoc. Prof. Hoang An Quoc (Director of Science and Technology Division, HCMUTE) and colleagues from HCMUTE and HUSC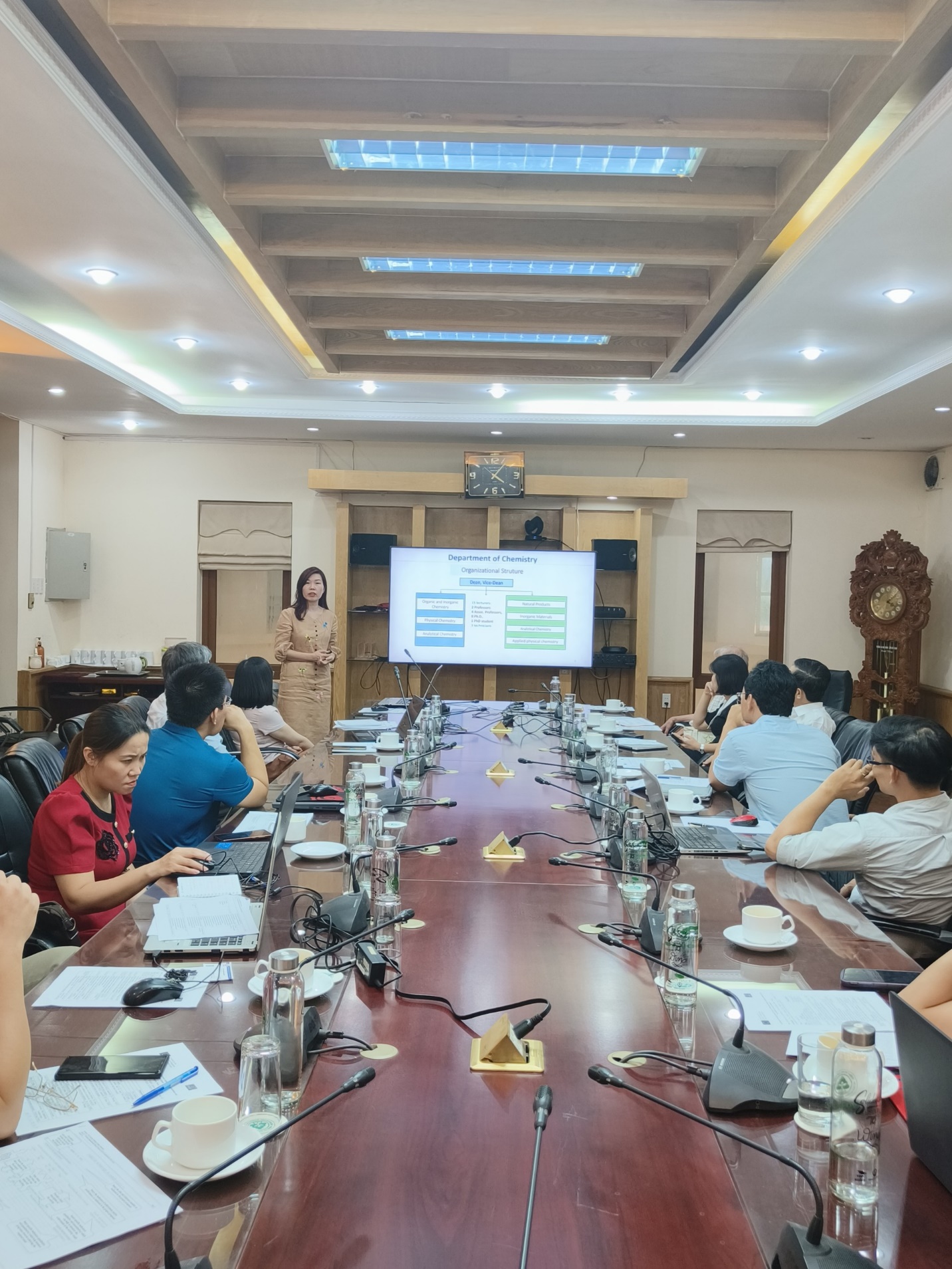 Dr. Tran Thi Ai My (Lecturer of HUSC) introduced Hue University of Science and Chemistry department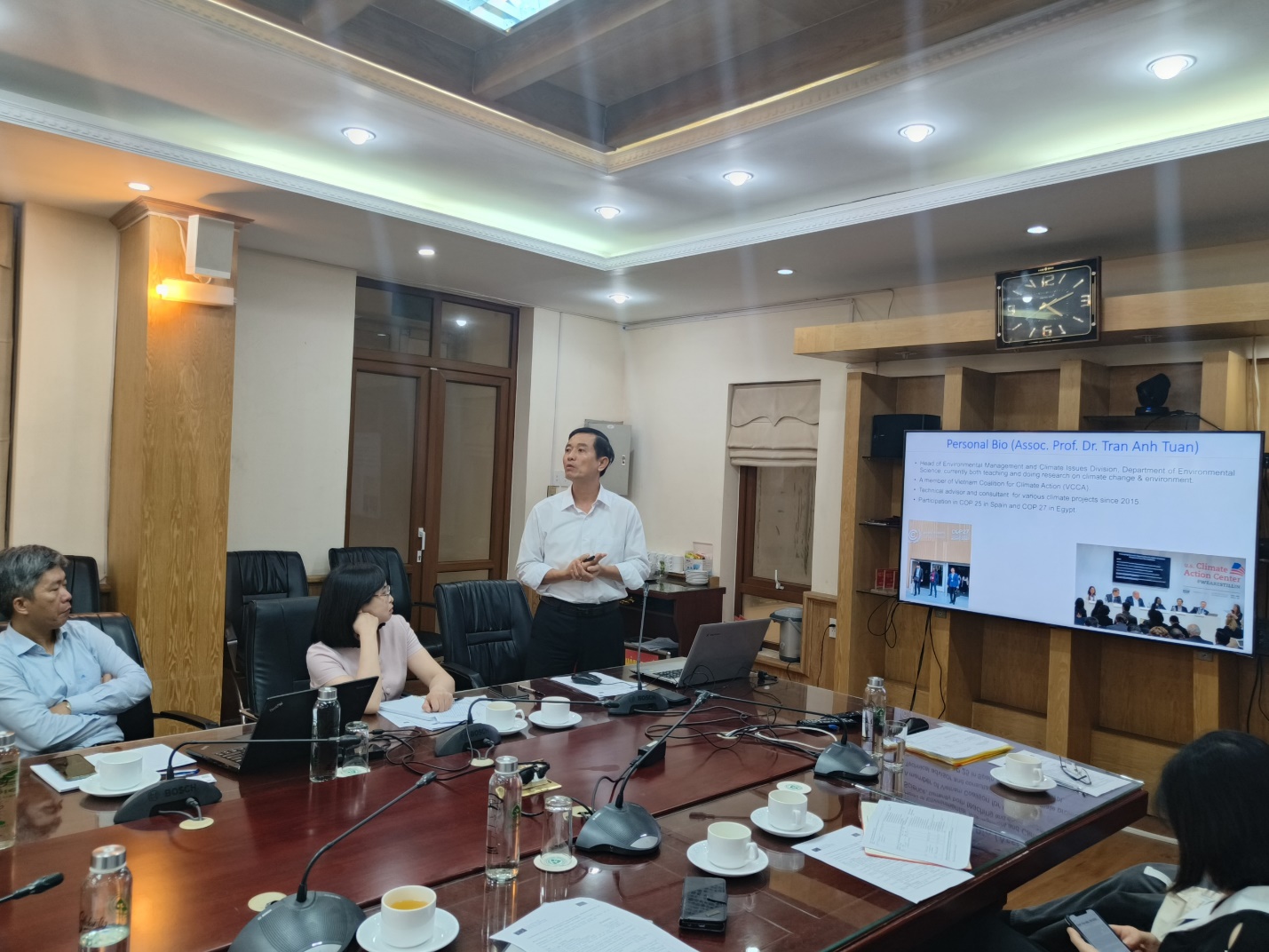 Assoc. Prof. Dr. Tran Anh Tuan (Lecturer of HUSC) introduces on-campus training programs and integration opportunities to develop new master's programs.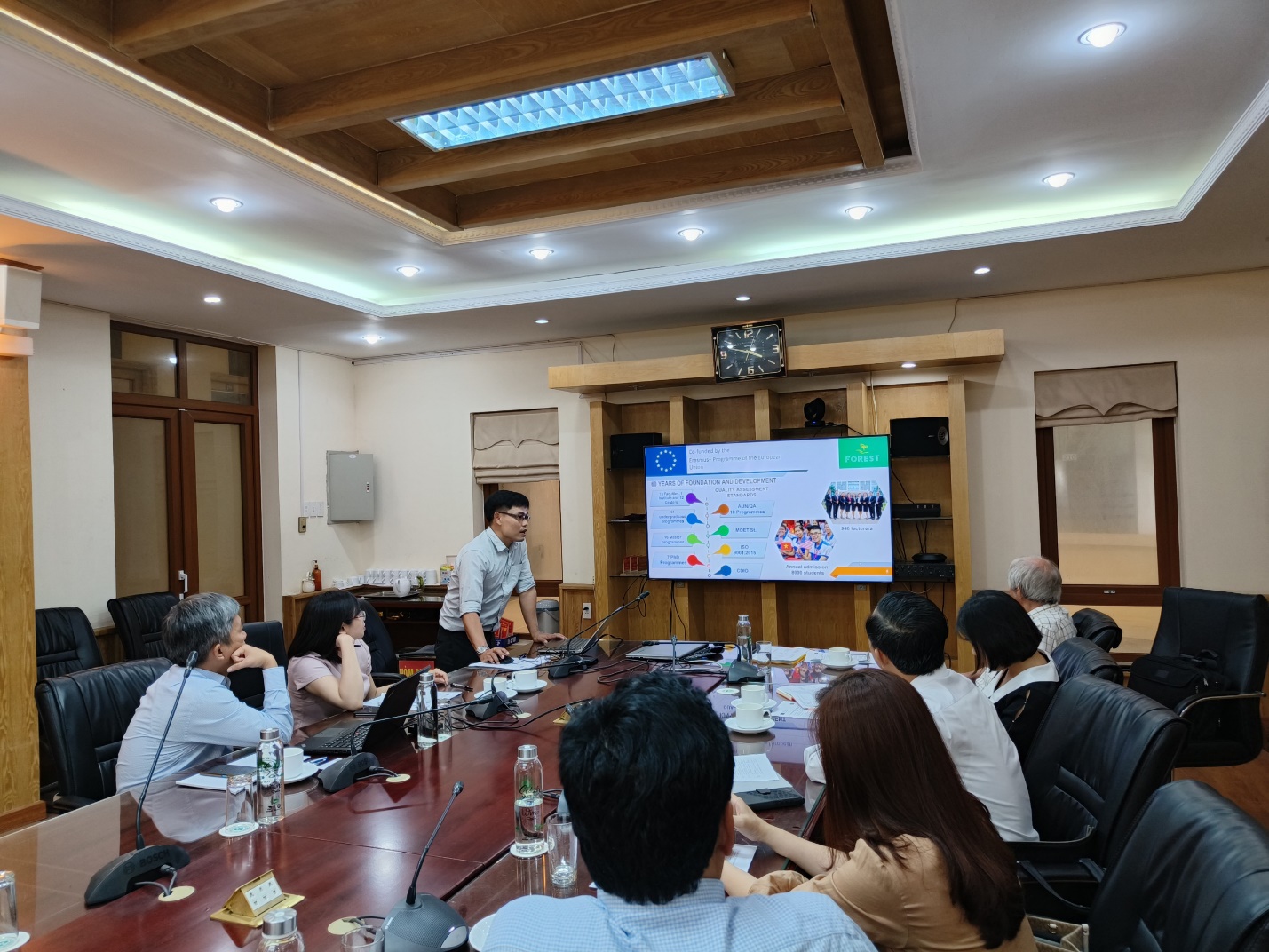 Dr. Huynh Nguyen Anh Tuan (Lecturer of HCMUTE) presented the proposal of HCMUTE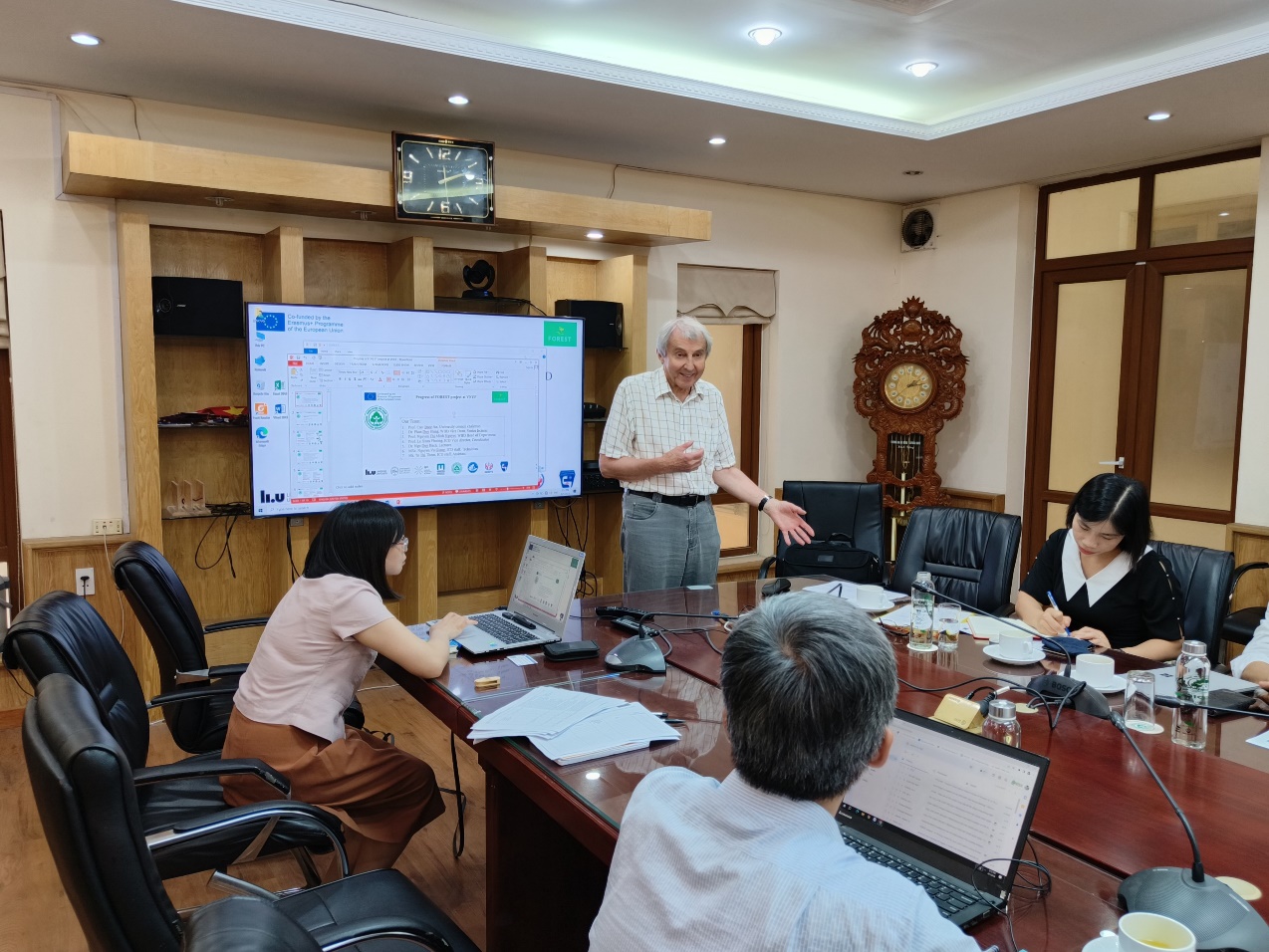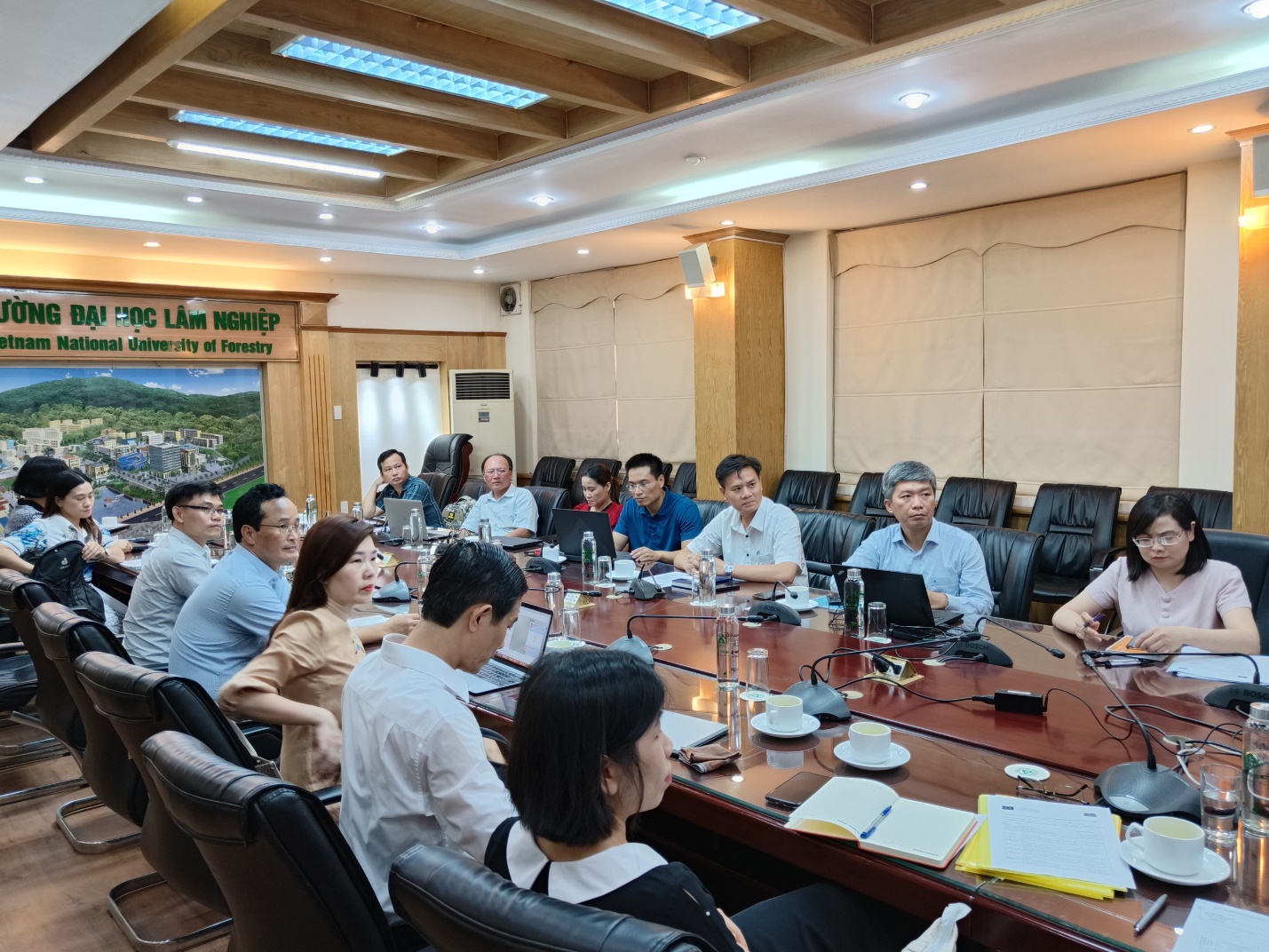 Project members discuss at the working session
On the second working day, the parties continued to discuss activities to be implemented in the near future, from professional as well as financial aspects such as: summer school plan (expected to be implemented from August 28 to September 1, 2023) with one day field trip; plans to transfer the project website from the Russian partner to VNUF; plans for consultation and development of new Master's programs of two newly participating universities (HUSC and HCMUTE); enrollment promotion plan for 2 Master's programs at VNUF and TNUS, website development plan (2 versions in English and Vietnamese) and project data storage at HCMUTE;....
By the end of this month (August, 2023), all 4 universities will coordinate with European partners to organize summer school at VNUF, with the direct participation of students and teachers of 4 Vietnamese universities and remotely (indirectly) teachers of European universities (Italy, Portugal, Austria and Sweden). This is an important event to attract interest in this project, especially inspiring young people who are in final year students or recent graduates who want to enroll in these new Master's programs. At the end of the summer school, students will receive certificates issued by the FOREST project and VNUF.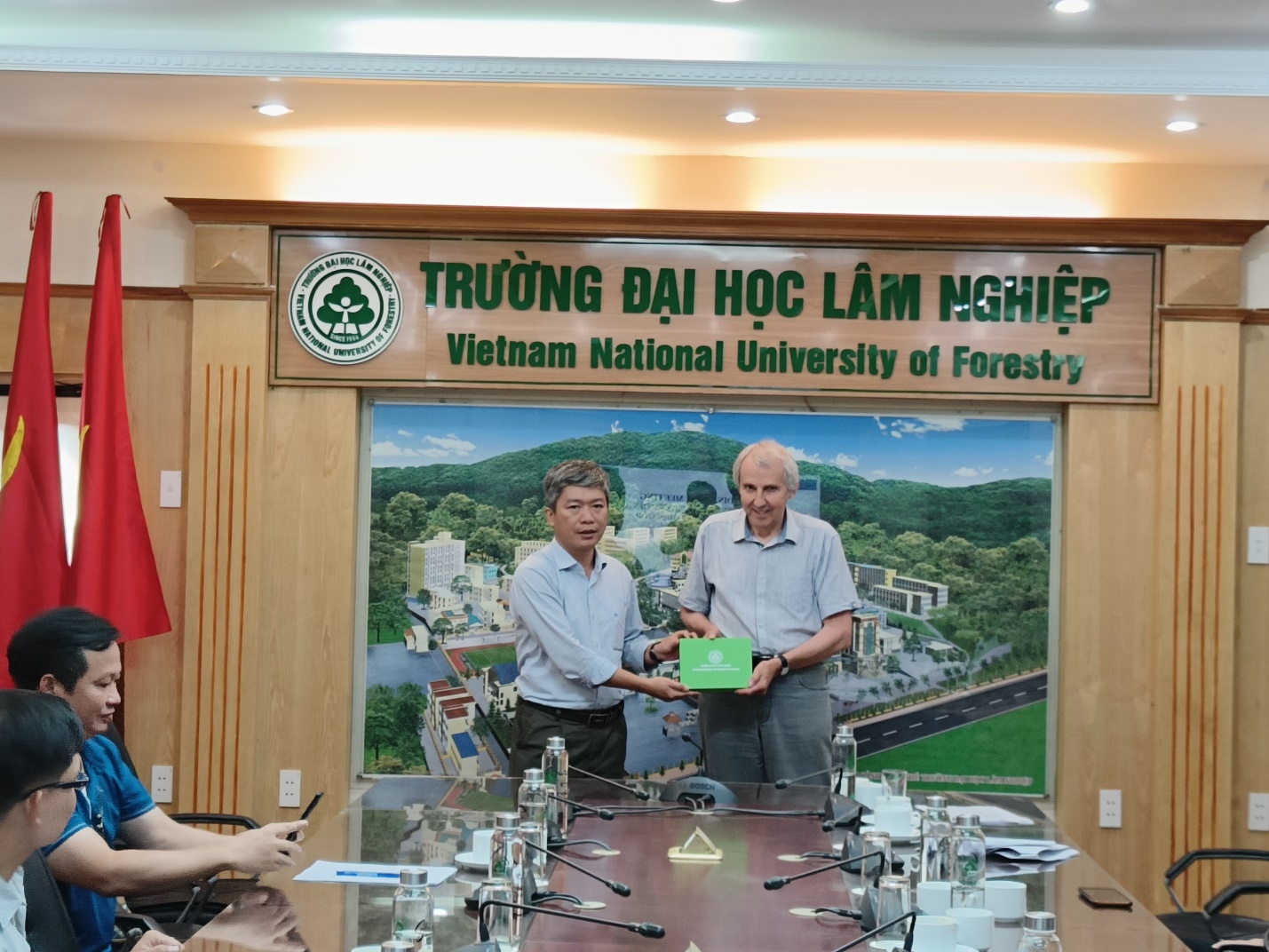 Presenting souvenirs to Professor Janerik
At the end of two good working days, Assoc. Prof. Dr. Le Xuan Phuong, country coordinator of the FOREST project in Vietnam, thanked Prof. Janerik who has helped and supported Vietnamese universities to participate in this project, bringing good values to universities in the region in training and researching in the field of Chemistry. This is an important cooperation activity, a foundation to contribute to refreshing and diversifying the training of human resources of the Vietnam National University of Forestry and partner universities in the future.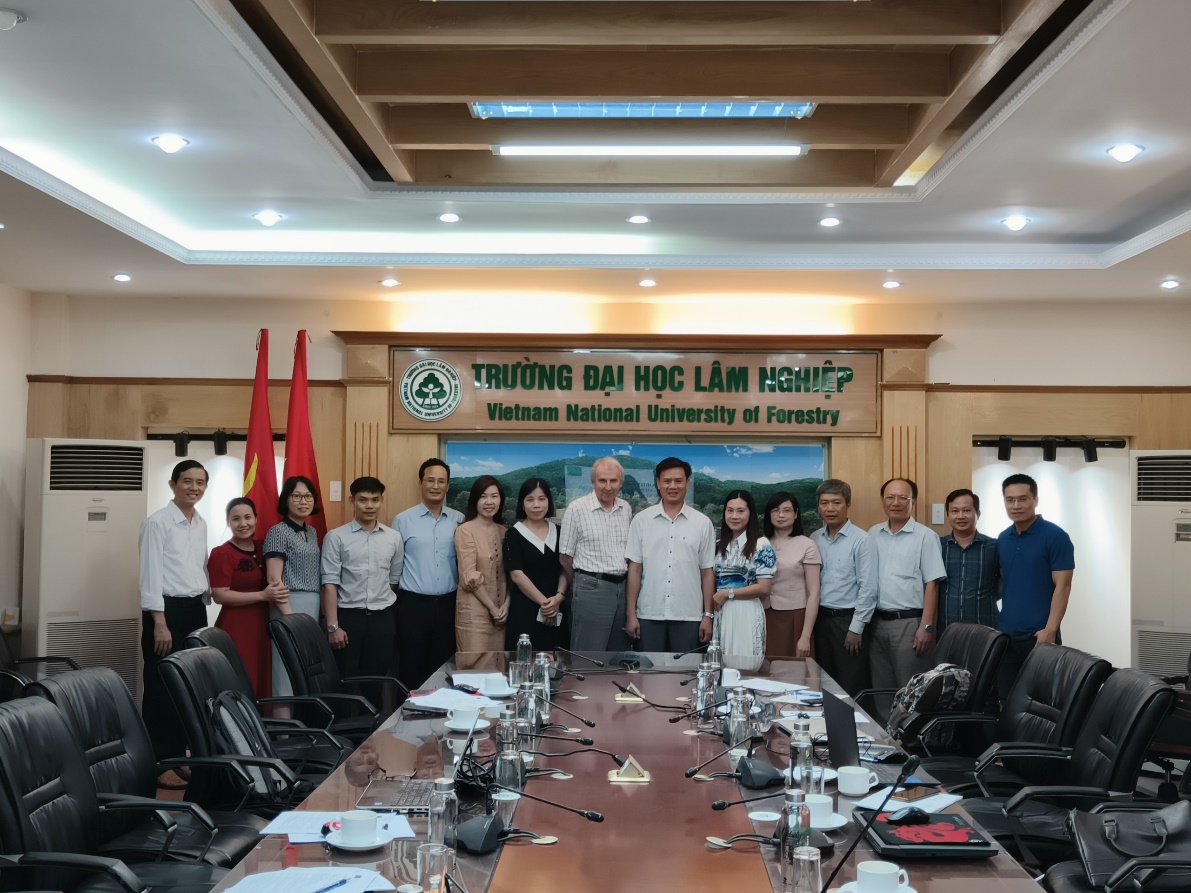 All participants of the workshop