VNUF MEETING AND WORKING WITH PROF. DR. DOMINIQUE LAFFLY – ATTACHÉ FOR SCIENTIFIC AND ACADEMIC COOPERATION AT FRENCH EMBASSY IN VIETNAM.
23 tháng 8, 2022
Participating in the meeting there were Prof. Dr. Tran Van Chu – President; Prof. Dr. Hoang Van Sam – Director of International Cooperation Division (ICD); Asso. Prof. Dr. Le Xuan Phuong – Vice Director of ICD.
Speaking at the meeting, Prof. Dr. Tran Van Chu congratulated Prof. Dr. Dominique Laffly on his appointment as Attaché for Scientific and Academic Cooperation at French Embassy in Vietnam and also thanked the French Embassy in Vietnam for actively supporting Vietnam in recent years. Prof. Dr. Hoang Van Sam introduced the training and scientific research activities of VNUF and expressed that the two sides will have more cooperation in the fields such as training and scientific research in the field of GIS remote sensing, climate change, environment as well as a joint research project between VNUF and other HEIs and research institutes in France.
At the meeting, VNUF also presented about the proposed project: "Modernizing VNUF towards autonomy and international integration" with the fund from the French development agency (AFD) and hope that Prof. Dr. Dominique Laffly will support this proposal.
The two sides also discussed about the Capacity Building Project under the ERASMUS+ Program of the European Commission that VNUF is participating. Some of these Erasmus+ programs is a well-funded program for education, offering many international exchange opportunities for undergraduate, graduate students and staff exchanges. In addition, the Erasmus+ program also supports projects on Capacity building in higher education innovation.
On behalf of the Embassy, ​​Prof. Dr. Dominique Laffly thanked the VNUF Board for the warm welcome and expressed his delight at the achievements of the University over the years. He also highly appreciated the role of the university in training high-quality human resources for the forestry sector and believed that the proposal to modernize the university will make more positive contributions to the development of the forestry in the coming time. In addition, He also shared the Doctoral and Master's scholarships programs that the Embassy is currently managing and hopes more and more students and young lecturers of the university will participate those programs in the coming time.
After the meeting, Prof.Dr. Dominique Laffly visited around the campus, experimental forest as well as facilities for training and research of VNUF.
Photos of the meeting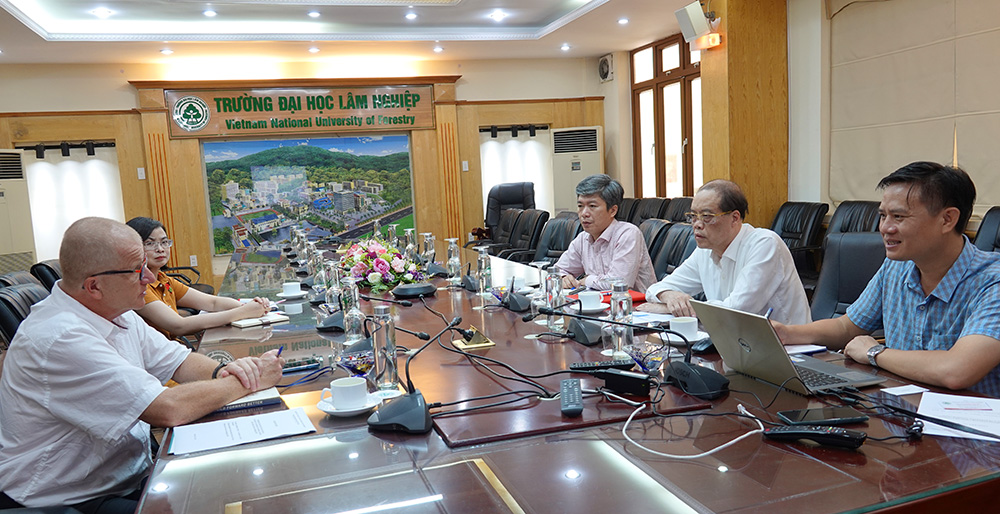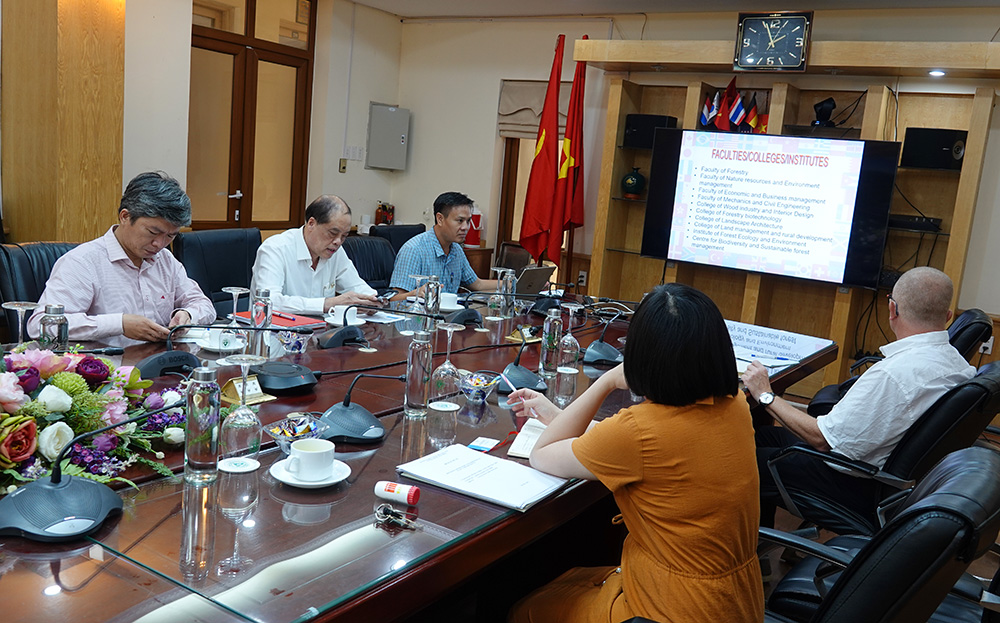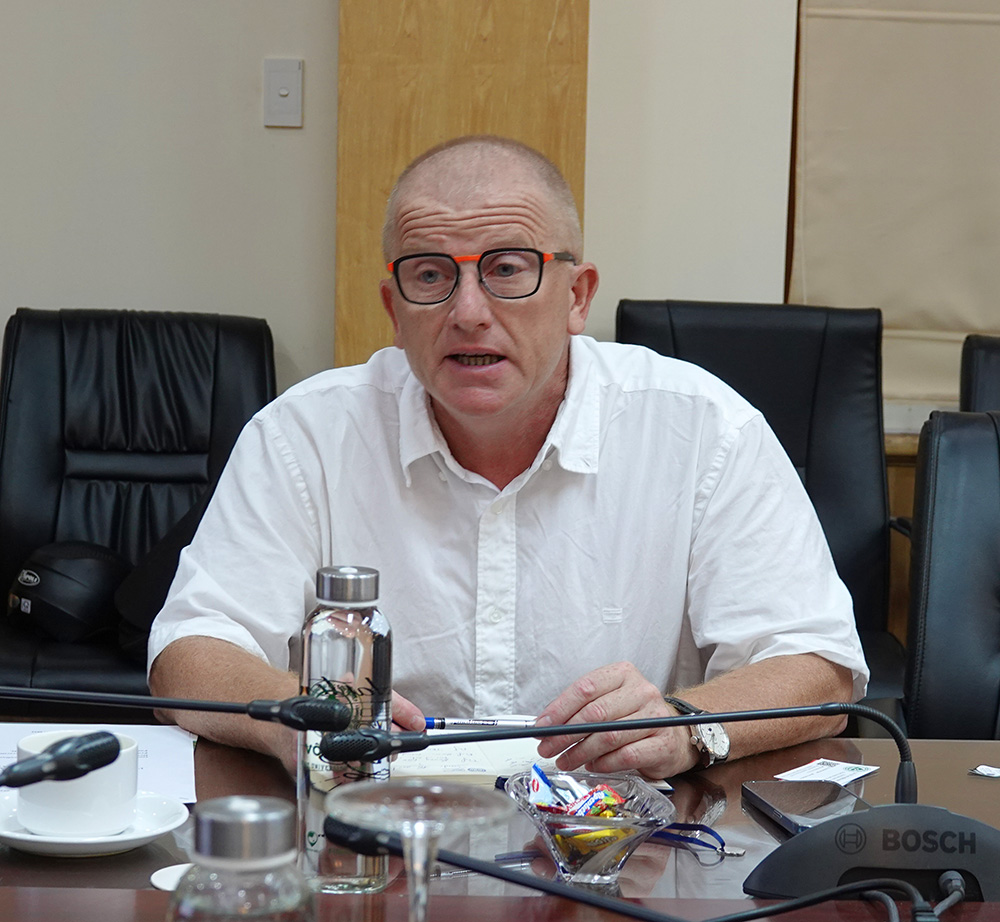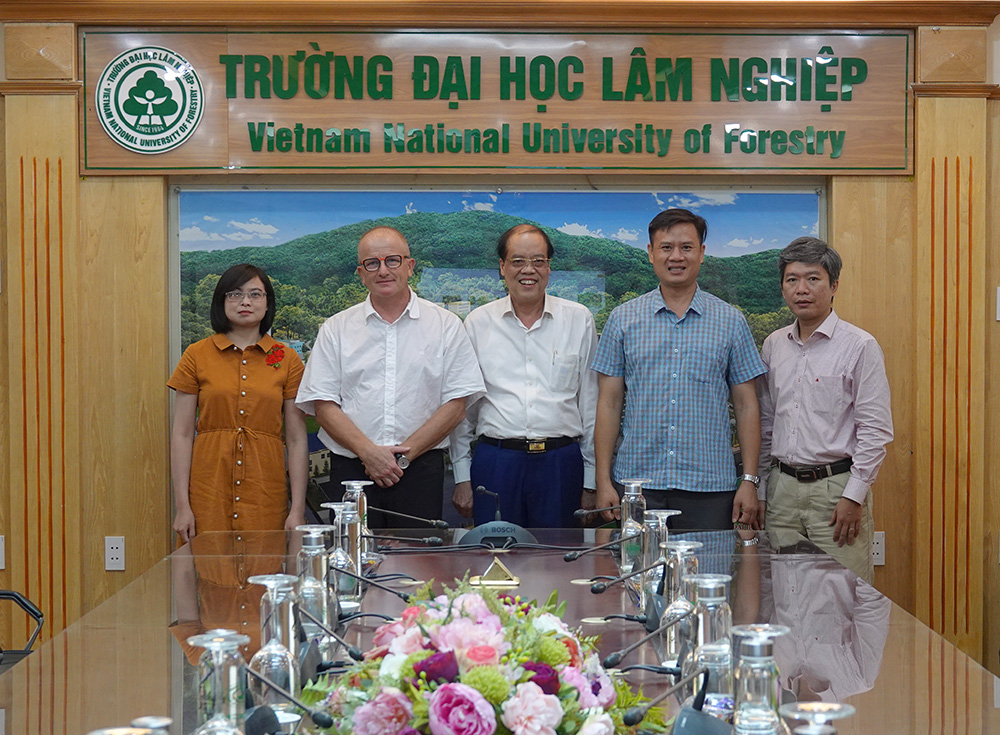 All the meeting