The Confernece Proceeding 12-13 November, 2019
4 tháng 1, 2020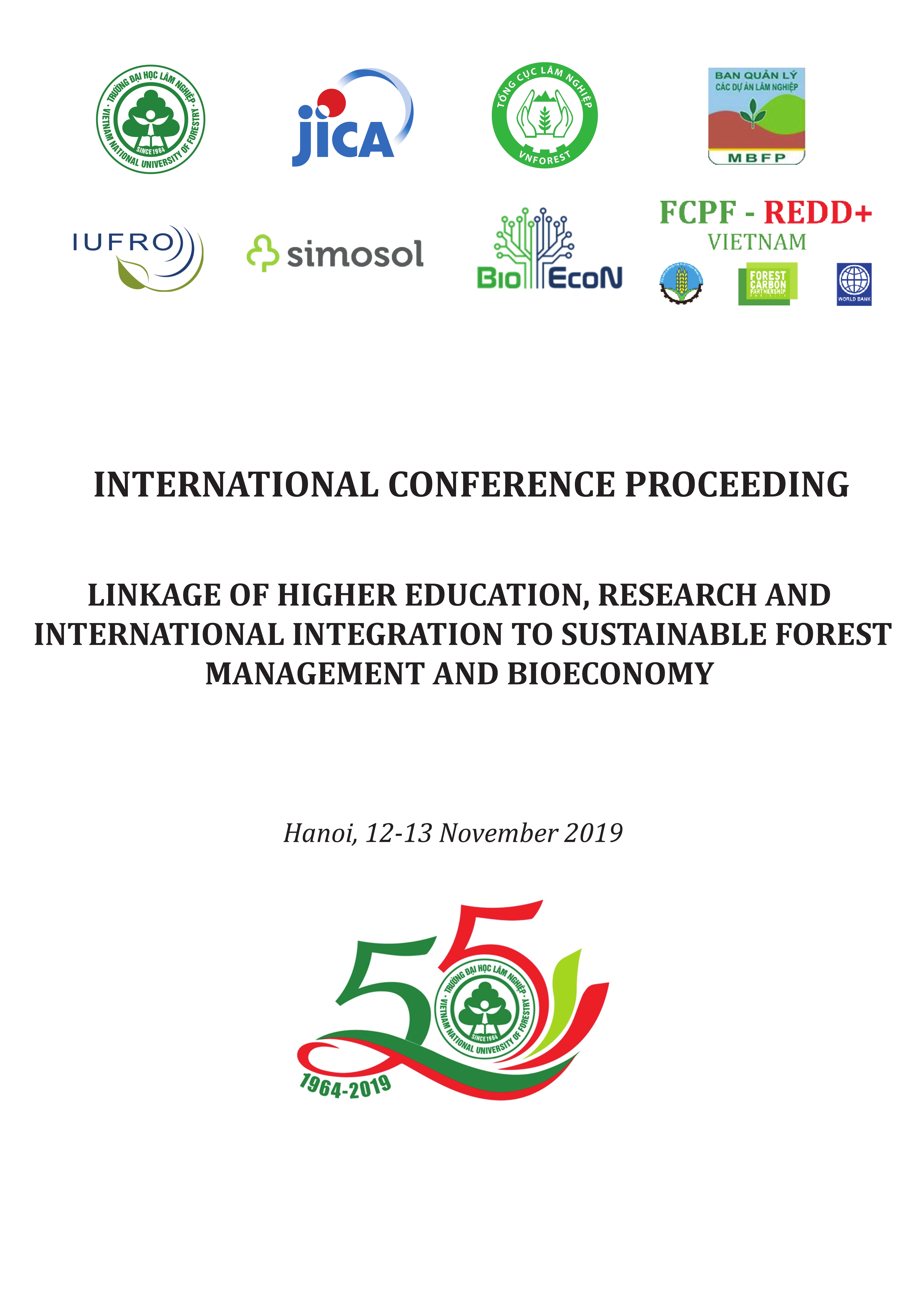 Please click to the details follow as: International Conference Proceeding12112019.pdf
INTERNATIONAL CONFERENCE
12 tháng 7, 2019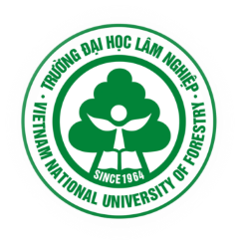 INTERNATIONAL CONFERENCE
LINKAGE OF HIGHER EDUCATION, RESEARCH AND INTERNATIONAL INTEGRATION TO SUSTAINABLE FOREST RESOURCES MANAGEMENT AND BIOECONOMY
I. THE CONFERENCE'S PROPOSAL AND CALL FOR PAPERS
1. Background
In Vietnam, forests provide the bio-economy sector with its most important, versatile and affordable renewable raw material: wood. In 2018, exported value from wood and forest products reached USD 9.4 billion, finishing 2 years ahead of the target of the National Target Program on Forest Development. The Government strives to reach USD 11.0 billion by 2019, equal to 133% of the program target. Export of forest products accounts for 28% of the total export value of the agricultural and rural development sector, ranking 6th in the export sectors of our country. Vietnam became the leading country in ASEAN, the second in Asia and the fifth in the world of forest product exports, behind only China, Germany, Italy and Poland. Vietnam's market share of forest products accounts for about 6.0% of the total value of the world forest product market. A revised model of profitability and sustainability in forestry is needed to reduce the abandonment of whole regions, support long-term investment in forests and encourage political and societal appreciation for forest ecosystem services. The demands on Vietnam's forests for wood and bioenergy production will increase in the future, eventually depleting resources. Additionally, climate change projections indicate that frequency of extreme weather events like storms, heavy rainfall and droughts will increase, thus putting additional pressure on forest resources.
Vietnam has over 14 million hectares of forests, of which over 10 million hectares are natural forests mainly distributed in five ecological regions with a coverage of 41.45% (VNFOREST, 2018). Currently, there are only about 240,000 ha of forest certified FSC generates a big concern on the sustainable high quality wood supply to secure the fast development of the wood industry, especially for exporting its products to US, EU and Japan.
Education develops a country's economy and society; therefore, it is the milestone of a nation's development. Education provides knowledge and skills to the population, as well as shaping the personality of the youth of a nation. Quality education plays a critical role in ensuring that the next generations of foresters are well equipped to face the multitude of challenges that a dynamic society and changing forest landscape will inevitably provide. Over the past 55 years, Vietnam National University of Forestry (VNUF) has many activities seeking to bring together perspectives and knowledge, to encourage international discussions on forest education and capacity building, to identify gaps in current forest education and to improve mobility and forest education opportunities.
The necessity of bioeconomy in Vietnam comes from global environmental issues and current economic development trends. Recently, the Government of Vietnam has issued important policies, which are considered an important legal basis for forest-based bioeconomy development such as National Green Growth Strategy, especially the process of restructuring the forestry sector towards diversifying and increasing the added value of forest products. This opens up many opportunities for cooperation between universities and research institutes in Vietnam and overseas. VNUF is the leading university in the field of forestry such as wood and other forest products processing technology, afforestation and agroforestry, forest and natural resource management, biodiversity conservation and ecotourism, and forestry policy will contribute significantly to the process of developing forest-based bioeconomy in Vietnam. VNUF and other universities in the world as well as the private sector are very interested in these areas and finding collaboration opportunities among them is essential in the context.
2. Objectives
The international conference on Linkage of Higher Education, Research and International Integration to Sustainable Forest Resources Management and Bioeconomy will be held in VNUF is dedicated to the improvement and dissemination of knowledge and understanding on methods, policies and technologies for increasing the sustainable forest resources management and bio-economy development. The lessons and experiences of forestry education from international institutions are also expected to be shared to help VNUF to improve its training programs to meet the society demand and labor market. Another objective is to promote the achievements of VNUF. The conference will also encourage regional and international communication and collaboration in the focus area amongs institutions in Vietnam and over the world.
3. Expected deliveries
The deliverables from the conference are expected to include:
- A clear understanding of current emerging priorities for research and training in sustainable forest resources management, including forests and bio-economy in Vietnam and other regions;
- A mutual understanding of opportunities and challenges of sustainable forest management and forest-based bio-economy development in Vietnam and other countries;
- Identified opportunities for collaboration among participation partners in research and international education in sustainable forest resources management and bio-economy development.
- Match-making opportunities for producers, technology developers, users, and the marketing sector
4. Topics and themes
The themes and topics of the conference includes, but is not limited to the followings:
(1) Sustainable Forest Resource Management:
- Climate change impact on forests and biodiversity;
- Adapting natural resources management to a changing climate;
- Sustainable forest management and forest certification;
- Biodiversity conservation and management;
- Water resources and sustainable watershed management;
- Carbon measurement and management;
- Inventory and monitoring of forest resources.
(2) Forest-based Economy and Bio-economy Development:
- Wood and forest product industry development;
- Impact of the logging ban on forest-based economy and forest resources
- Silviculture and biotechnology for forest plantation;
- NTFPs, agroforestry and value chain development;
- PES and Payments for forest environmental services (PFES);
- REDD+ implementation and finance opportunities;
- Forest based eco-tourism development and protected areas management;
- Forest- based bio-energy;
- Forest and bio-economy development policy and governance.
(3) International Lessons and Experiences on Forestry Education Development:
- Challenges of forestry education in the changing world and 4.0 technology;
- Lessons and experiences on forestry education development of international universities.
- Trends of forestry and bio-economy related careers.
(4) International collaboration opportunities:
- North - South collaboration opportunities in sustainable forest resource management and bio-economy development;
- North - North collaboration opportunities in sustainable forest resource management and bio-economy development.
5. Venue: Vietnam National University of Forestry, Hanoi, Vietnam
6. Time: The conference will be held in 12-13 November 2019, consist of one-day worshop and one-day field trip.
7. Conference fee:
- For workshop: 50 US$ (including registration fee, tea-break, lunch and documents)
- For workshop and field trip: 80US$ (50 US$ for workshop and 30 US$ field trip).
8. Accomodation:
Hotels nearby VNUF with the price from 20 to 40 US$ per night.
II. IMPORTANT DATES
1. Submission open: 1 July 2019
2. Abstract submission deadline: 30 August 2019
3. Registration (for participation) deadline: 10 September 2019
4. Author and participant notification: 15 September 2019
5. Full paper deadline: 30 September 2019
6. Conference date: 12 & 13 November 2019
III. ABSTRACT FORMATION
Title in bold and center (Arial 12 pt and lower case)
Authors, Arial 10 pt, justified (presenting author underlined)
Affiliation in Arial, 10 pt, italics: institution, address and corresponding email
eg. (1) Vietnam National University of Forestry, Hanoi, Vietnam
Text: max 300 words, Arial, 9 pt, justified, max 4 references indicated as [1]
Keywords: max 5 keywords, Arial, 9 pt, italics.
References, Arial 8 pt, single space
eg. [1] Hoang Van Sam, Pieter Baas, Paul JA Keßler (2008) Traditional medicinal plants in Ben En national park, Vietnam. Blumea 53: 569–601
IV. CONTACT PERSON
Registration, submission and information requests are welcome to:
Assoc. Prof. Dr Le Xuan Phuong, Vice Director International Cooperation Division (ICD);
Email: phuonglx@vnuf.edu.vn ; icd@vnuf.edu.vn
Website: http://env.vnuf.edu.vn/web/guest/ic
Mobile: +84 (0)913575309